Boston Portrait Photographer A collection of photos by a Massachusetts children's portrait photographer based in Reading MA.
Family photos are so important in documenting generations of families. While a photo today may seem as if its not that big deal, imagine the excitement in 100-150 years when someone finds your family portrait. I grew up in a family where we did family portrait photos every few months. A few years back I was going through a box of old family photos and came across a family photo of about 15 people taken circa 1905. I had no idea who the people were in the photo, but I knew the general family and where it was taken. With this information, I was able to search on genealogy websites and identify everyone in the photo! Even though I am a photographer, this photo solidified the importance of big group family portrait for me. I also encourage EVERYONE to label their portraits. Sure, you know who is who in the photo and your kids might know, but in 150-200 years they won't know! You have NO idea where the photos you take today will end up.
This is a photo of my grandparents and great grandparents The Keelan Family in Dedham Massachusetts. I believe this was taken at their home on High Street.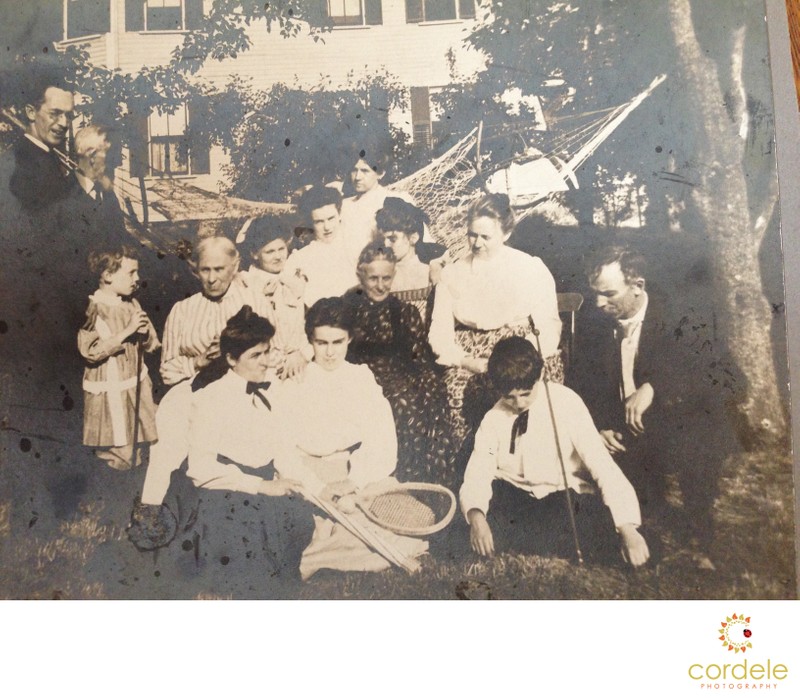 I really believe that children's portraits and family photos are important. I also truly believe in capturing a baby as a newborn. Newborns are so different after just a few short weeks, that's why photos of them just under three weeks old is important. With my own kids, I have a gallery wall of newborn photos taken at my home in Reading MA. The photos are of them all 6 weeks old. I treasure these portrait photos.
When I take newborn photos in our studio, I really try and do some sweet poses and then move on in the home Lifestyle photography. Being in Boston it's easy to drive to Natick, Newton, and Reading MA to do photography in the home.
I also don't mind heading up to Marblehead or Gloucester to do family beach photos. It's one of our favorite spots. Cape Cod Beaches also provide a great backdrop if you are on the South Shore and want family portraits or engagement photos.

In New England Fall Family Portraits are such a treasure to people and I will drive up to farms and forests to do them. The changing colors of the trees and the bright sweaters on the kids make fall portraits in Boston the best! Nowhere else (i.e Miami) do you get the colors and feel in the fall photos as you do in New England photography.

I have a portrait of three siblings together on my site, that is one of my favorite photos. They were all sitting together and all found a bug. They stopped focusing on me and played with each other. The ability to stop time like that and help mom remember that "yes, her kids did have a great childhood; together" makes me love my job so much!

I love shooting in the studio and have various themes that run every couple of months. I do Valentines Day, Spring/Easter and then Holiday sessions. I also have a great selection of backdrops for cake smash sessions, a fan favorite! I love setting up a scene and having the parents bring in the cakes and the kids then go to town! It's always interesting to watch, will they dive in, or approach slowly?

Cordele Photography is a Children's Portrait and Lifestyle Photography Studio based in Reading MA, just north of Boston.

Cost of Portrait Photography in Massachusetts
The average cost of Portrait photography in Massachusetts depends on what type you are looking for. If you are looking for a standard quick, one-family portrait you can find photographers that run mini sessions for roughly $175. Each photographer has a different style, experience, and approach and with that will come varying prices. I have been a portrait photographer since 2004. With that comes the experience of dealing with all sorts of kids, families, light, and locations! There is very little I have not seen! I charge $295 for an hour of my time planning and photographing your session.

It's hard to say what the average is, but if you are looking for just a family portrait outside under an hour, most photographers will charge around $250 for the session, and then you would have to buy what you want. A lot of studios offer what they call "in-person viewing" where you view the photos in person and select the images you want to purchase.
While I don't just capture Portraits, I capture people in love. Shooting Engagement Photographers is one of my favorite things to do. Well, I don't get to do it often, I do get to work with amazing couples. Even if you don't hire me for your destination wedding in Mexico, you can hire me to shoot local
engagement photography
.

What can you do with family photos?
There are endless options for what you can do with family portraits. Some people want to blow the photo up to a 16x24 and add a frame, some people want to have 5x7 prints in frames for the desks. My favorite product for smaller prints is an Acrylic Block. They are sturdy (I know, I've dropped mine) they are timeless and they can be moved anywhere around your home and still look modern and fancy at the same time!

Canvas wraps are still popular, I recommend what I call a standout print wrap. These come wrapped around a board. They have a smooth finish and they have a 2-inch piece of foam mounted on the back to help it look like it's floating off the wall. They are gorgeous! I have a bunch of them hanging in my own home!

My all-time favorite item for displaying a family portrait is NOT seen anywhere. I guarantee you NO ONE has it! This is called a wall sticker. I have a family photo of my own children on a huge wall downstairs and it is literally a big old sticker that won't damage the paint. They are hard to find, and you can order them from me! It's one of the most talked-about display pieces I have! People always stop and say "wait, is that a sticker on your wall!?"


Reading Photographer Headshots-Portraits-Kids-Families, Senior Portraits 40 Marla Lane, Reading MA 01867 781-315-6030 - aw@cordelephotography.com